As
I mentioned a couple of days ago
, I've been helping someone who's been doing a little renovating these days. That someone, happens to be my fantastic sister in law Rosanna who is in the midst of a major renovation with her new husband. Over the past few months their house has been torn apart (as in no wall left untouched-- actually... no wall left at all) and is now almost finished. Now, I really like to help out friends and family with decorating and such-- but I also try to not spam them with all of my ideas and opinions. But, when I start getting texts and messages that say things like: "SOS!" "What color do I want the grout to be???" "On my way to the store, stand by." "satin nickel or satin chrome?" "I need you!!" and "HELP!!!" I happily intervene :) So, over the past few weeks I've been helping Rosanna source and shop for tile, lighting, hardware, vanities, faucets, and paint along with our friend
Andrea
. And let me tell you-- I have been having fun. A LOT of fun :)
Well over the weekend Doug and I packed up the kids to go check in on the progress and help out with a few last minute details as they were finally moving into the house! Doug was needed because he's been the one installing the kitchen, and I just really wanted to take a peek at the progress. The kids definitely were NOT needed-- they just made a mess and played Angry Birds. While I was there I managed to snap a few pictures of the almost completed renovation. Wanna take a sneak peek?
Hello... gorgeous kitchen. I wish I had before pictures to show you-- but believe me when I say that this is quite the transformation. Let's just say that this space wasn't a kitchen a few months ago-- it was a dining room, a wall, and a hallway.
Now keep in mind that not everything is quite finished yet-- and they had only moved in the day before (hence the burnt out light bulb, unfinished skylights, missing outlet covers). But is this not a pretty awesome kitchen? It may look like a custom kitchen but it's actually from Ikea.
Not every Ikea kitchen looks this good-- but it does when my hubby installs it :) He reconfigured some of the cabinets and built the most amazing 10 foot island. I would live at this island if it was in my house!!
Going for Ikea cabinets is definitely budget friendly. But when you pair Ikea cabinets with other fantastic finishes you get a custom looking kitchen for a much better price. Let me show you some of the details that really take this kitchen to the next level...
Last week I found this fantastic polished marble backsplash
and it really is a show stopper. It looks amazing with their beautiful quartz countertops. The polished surfaces really reflect light in the space-- which is important since there are no windows in this part of the house.
Check out that wall of pantry cupboards. Ikea didn't sell pantry cabinets in the right depth for this kitchen so Doug ended up cutting them all down to size so that they would fit perfectly.
One of my favorite things in this kitchen is the cabinet hardware.
When we saw the
Duluth pulls from Restoration Hardware
we knew they were THE ones. Aren't they fantastic? We only ordered the RH hardware for the pot drawers and instead picked up knobs in a matching satin nickel finish from Home Depot to help balance the budget a little bit better :)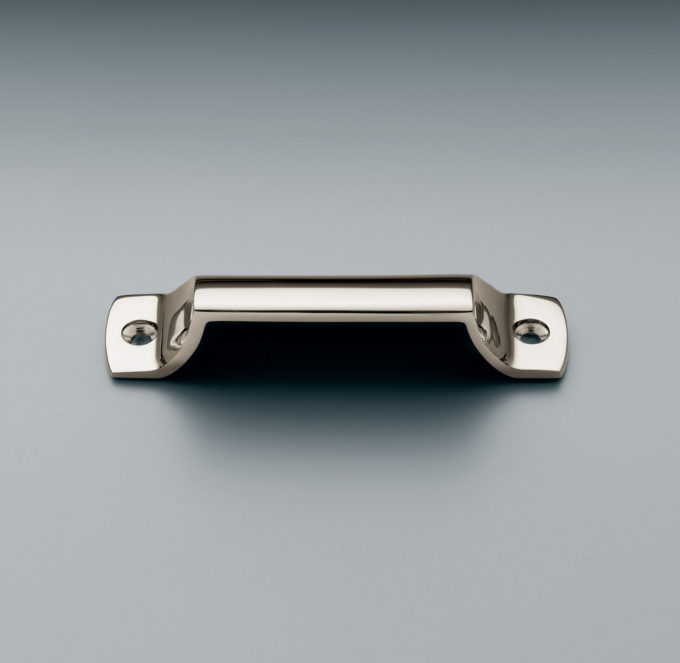 Now... can you spot the extra cabinets that Doug added to the back of the island? I'm pointing it out to you with an arrow...
Yeah, that one. That teeny tiny cabinet is for James' stuff. Kidding! I'm sure Rosanna will share at least one other cabinet with him :) Instead of supporting the overhanging island countertop with bar brackets Doug came up with this solution. He took two upper cabinets and built a base to make them the same height as the island and also cut them down to be the right depth. These cabinets were then installed on either side of the island as supports that look a lot like columns. Instead of putting hardware on the doors we picked up some push latches so that the cabinets would blend into the island. The only thing this island needs now are some fantastic bar stools.
Oh and the pendant lighting was a good find. We found them at a Vancouver lighting store, but they can also be ordered online from the
Home Depot
in two different sizes. I thought that they looked similar to
these lights
from Restoration Hardware-- but they were a fraction of the RH price :)
Storage is a bit of an issue in this house (isn't it always?) so some bookcases were needed for the living room. Instead of having custom ones built, Rosanna picked up two Ikea bookcases, had them "installed" like cabinets and had the fireplace mantel built (by my brother in law Erik) to fit in between so that it would read as one unit. The fireplace still needs to be painted out in the same color as the bookcases and the shelves and doors need to go on the cabinets but I think it's going to look pretty fantastic when it's all finished!
We found this gorgeous lantern style light fixture for the stairway. Love it.
Here's a sneak peek of the floor tile in one of the bathrooms that's still a work in progress. Isn't it gorgeous?
Here's a peek at the other bathroom. We selected some pretty economical tiles for the floor (12x12 porcelain from Home Depot) and for the wall of the shower-- those white shower tiles are probably the cheapest tiles available at Home Depot.
But then we added a band of marble mosaic tile to make it pretty.
And there you have it-- a little sneak peek at this renovation project Doug and I have been helping out with. There have been many many people working to make this project a success-- but I'm just going to give a quick shout out to my brother in law Erik and his company for their awesome finishing and tiling work. If you're thinking about renovating and are looking to hire someone-- they do pretty fantastic work. And-- Doug's pretty amazing when it comes to building and installing kitchens-- just saying :)
When everything else is finished I'll have to go and take some more pretty pictures when everything is perfectly styled-- but for now I hope you all enjoyed the tour!
** If anyone want the source info on any of the tile, fixtures, paint, cabinets, or hardware-- let me know. I'd be happy to send you the details! **